Devon office furniture specialists MD Business Interiors present the height adjustable office furniture range from Lee and Plumpton. This range of height adjustable desking provides versatility for a healthier workspace.
Sit/Stand Workstations – Key Features
Height adjustable from 695mm – 995mm
Horizontal or vertical cable management
Screen panels in a variety of options
Electric, gas strut or fixed height workstations
Optional modesty panels and slab ends
The Health Benefits of Sit/Stand Workstations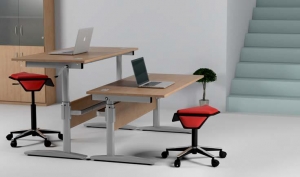 'Sitting for long periods increases the risk of diabetes, heart disease and death, researchers suggest'
BBC News Report
The news is based on the findings of a review which summarised the results of all the observational studies that had looked at the association between the time spent sitting or lying down whilst awake (sedentary behaviour) and the risk of diabetes, cardiovascular disease, and death due to cardiovascular disease (such as heart attack) or any cause.
The link between worsening health outcomes and time spent sitting first became apparent in the 1950s when researchers found that London bus drivers were twice as likely to have heart attacks as their bus conductor colleagues. The researchers were concerned that, due to changes in lifestyle and employment, the health problems associated with sedentary behaviour are likely to have worsened.
They cite the findings of a 2011 study showing that the average adult now spends 50-60% of their day in sedentary pursuits. The main findings of the study were that, compared to the shortest time spent sedentary, the longest time spent sedentary was associated with a:
112% Increase in risk of diabetes
147% Increase in cardiovascular events
90% Increase in death due to cardiovascular events
49% Increase in death due to any cause
The study was carried out by researchers from Loughborough University and the University of Leicester. The primary author is being funded for a PhD in the Department of Cardiovascular Sciences, University of Leicester. The study was published in the peer-reviewed medical journal Diabetologia. The research was well-reported by the BBC, Daily Mail and Daily Express. Source: NHS News 10. October 2012
Brain Activity
Brain function slows due to lack of fresh blood and oxygen being pumped around your body, resulting in lack of brain and mood enhancing chemicals required to stay alert. Tiredness starts.
Heart Disease
Muscles burn less fat and blood flows slower during sitting. This allows fatty acids to easily clog the heart. High blood pressure and elevated cholesterol are increased leading to cardiovascular disease.
Back Problems
Sitting does not allow nutrients and fresh blood to enter the soft spongy discs between vertebrae, resulting in hard support tendons and ligaments. Uneven weight is also distributed unevenly between vertebrae causing spine problems.
Inner Health Stats
Calorie burning drops to 1 per minute . Your breaking down fat enzymes drop 90% . Good cholesterol drops 20%. Insulin effectiveness drops 24% and risk of diabetes rises.
Muscle Problems
Sitting creates electrical activity in the leg muscles to shut off. Your Limp Glutes found around your buttocks become accustomed to no use, this lowers your ability to maintain a powerful stride.
Poor Circulation
Sitting for long periods slows blood circulation. This causes fluid to pool in the legs. This problem can cause swollen ankles and varicose veins, to dangerous blood clots called Deep Vein Thrombosis (DVT).
Blood Glucose*
The concentration of sugar in blood
Seated
Peak (Highest) 152 minutes after lunch started.
Trough (Lowest) 258 minutes after lunch started.
Seated peak to trough 106 minutes.
Standing
Peak (Highest) 84 minutes after lunch started.
Trough (Lowest) 144 minutes after lunch started.
Standing peak to trough 60 minutes.
Calorie (kcal) Expenditure*
Seated average 2.6kcals per minute
Standing average 3.3kcals per minute
Heart Rate*
Seated average beats per minute 79
Standing average beats per minute 89
For more information please feel free to get in touch on 01392 834980 or via email link here.