Specialist office furniture dealers MD Business Interiors based on Marsh Barton in Exeter, Devon want to make your life easier. So, you are in the market for a new office chair but you cannot decide between mesh or an upholstered fabric or padded office chair? We hope this blog will help you!
Upholstered fabric or padded office chairs give the look of comfort. At the end of the working day, you would always choose your upholstered comfortable armchair over your wood or plastic kitchen chair. Would a mesh chair give the same comfort during the working day?
So lets compare the comfort of fabric with mesh. Mesh has gained in popularity in the comfort stakes as technology of the mesh weave has become better. It may not look as comfortable but mesh is very supportive which therefore provides great comfort.
The main benefit with mesh is its breathability. Hot summer days may be few and far between in the UK but centrally heated warm office environments are not. A regular complaint with an upholstered back on an office chair is it is too warm and the user ends up with a sweaty back – ugh!
Durability is another key advantage to the mesh. The mesh weave won't lose it's shape, is tightly woven and so very strong. Upholstered or padded office chairs can get torn and the padding can begin to look squashed or sunken in areas ageing the chair. The fabric you choose can wear out so check out the Martindale Rub Test rating before you buy.
Another bonus factor for mesh vs upholstered office chairs is hygiene and cleaning. This is largely due to the fact that the mesh does not get as dirty. No sweaty back equals no sweaty stained chair!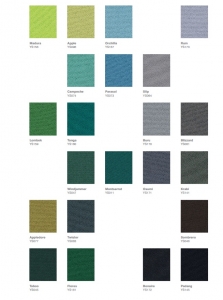 Moving on to colour finishes. Fabric office chairs are ideal if you wish to colour coordinate with a room or match your seating with company branding colours. The choice of fabric colours is literally endless. Some fabric office chairs are available in over 50 fabric colour choices. So whether you are looking for Paradise, Midnight or Sunset in your workplace, there is sure to be a colour for you.
Mesh seat and back chair colours on the other hand are generally fairly limited. Black is widely available. So if you like black your on a winner. Other colours like white, blue, grey, red, orange or green are available from certain manufacturers.
However, if you are looking for something a little different in colour then upholstered fabric office chairs will provide more choice.
So in summary, the comfort stakes both are fairly equal.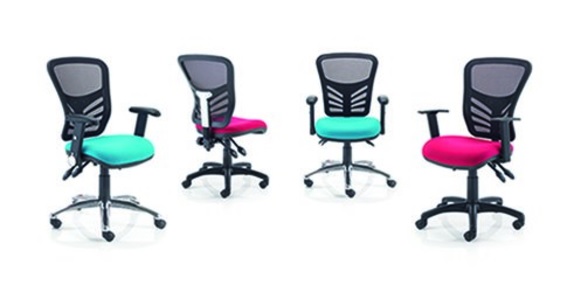 However if durability and something which will age well are important to you – choose mesh.
If a range of colour choices is required – opt for upholstered.
Finally if you are still struggling to decide then consider both fabric and mesh in one chair. Go for a padded office chair seat with mesh back.
For information on either option of chair call 01392 834980 or email via this hyperlink here.
(Original post by N Gillespie of Saxen Office chairs Oct 15)