DEVON HOUSING CONTRACTOR USE LOCAL OFFICE INTERIORS SPECIALIST TO REFURBISH NEW HEAD OFFICE!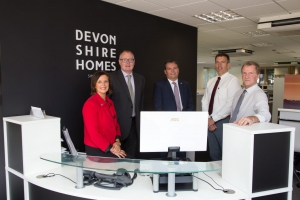 Devon house builder, Devonshire Homes has made a major investment to rebrand the company and refurbish its head office located in Tiverton. The company with developments across Devon, including Cullompton, Chulmleigh, Kingsteignton and Barnstaple put out a tender for the works; awarded to independent Exeter-based office refurbishment specialist MD Business Interiors.
MD Business Interiors worked closely with the client from conception through to completion of the fit-out, providing imaginative solutions to gain space and additional storage. A number of services were carried out as a part of a bespoke solution for Devonshire Homes, including: design of open plan office space; incorporating the new brand and corporate colours; creating room for expansion and modern mixed height meeting areas. Dramatic changes included folding doors to the boardroom creating a versatile space transforming the large area into two separate private meeting rooms.
The Devonshire Homes head office currently occupied by 20 employees, has been future-proofed, with room to expand across all departments with an additional six work stations. The company established in 1992 has had a major revamp for 2016, seeing them rebrand with a cleaner, stripped-back logo and new website launched in June. The refurbishment, the final part of the rebranding exercise, has seen Devonshire Homes refresh their image as a modern and dynamic company. Moving forward they are looking to expand and taking on a further two employees by the end of 2016.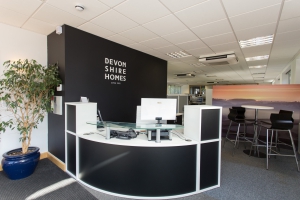 She adds: "The team are delighted with the new look office, which has created a fantastic, motivational work environment for all. The space created is contemporary, dynamic and versatile, and has given plenty of storage space, lacking before. Creating room for the team to expand was key to the refurbishment, with future business growth in mind. Our office is now light, bright, modern and stylish, in line with the new Devonshire Homes brand."
Jane Pearce – Sales and Marketing Director, Devonshire Homes comments: "As part of the brief given to Mark Dowse at MD Business Interiors we asked that there would be minimal downtime for the business, our staff and customers. The refurbishment programme was completed in six weeks, with all minor works carried out by the MD Business Interiors team outside of office hours. The final transition saw the new office furniture turned around in one day."