We are office furniture and office fit out and office refurbishment specialists based in Exeter, Devon. We share with you a blog from our office furniture manufacturer Lee and Plumpton about colour as below.
Colour can have a profound impact on our behaviour and productivity in the workplace.
The four primary psychological colours are: blue, red, yellow and green. Although there are no universal truths in terms of colour psychology (mostly due to cultural and individual differences) certain colours have been shown to possess distinct psychological properties.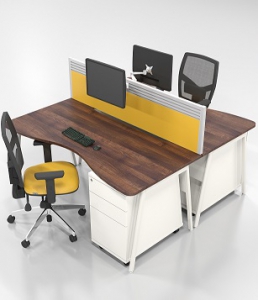 Psychologist Angela Wright has developed a scientific theory of colour. According to this theory, red affects the body, blue soothes the mind, yellow stimulates our emotions and green can balance our mood*.
The intensity and saturation of the colour you choose is just as important – if not more so – than the hue itself. Bright, striking colours will stimulate while softer, pastel shades will soothe. By combining colours of varying intensities, it's possible to create harmonious office spaces that promote productivity, efficiency, creativity and wellbeing.
When choosing your colour palette, you should also consider the culture of the workplace in question and the nature of the work being done.
Blue
Of the four primary psychological colours, blue is believed to improve productivity and is a good choice for office environments that demand concentration and focus, such as accountancy practices.
It's important to note that colours are generally classified as either warm or cool and can influence the perception of temperature. Certain shades of blue could make rooms appear cold and unwelcoming compared to warmer colours such as bright red, yellow and orange.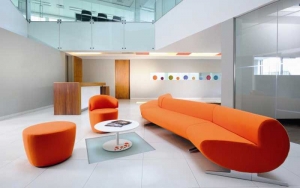 Red
Commonly associated with passion and anger, red is a highly stimulating colour that can provoke a physical response by raising blood pressure and quickening pulse rate. It can be useful in sales environments that require staff to be assertive or professions that demand a keen eye for detail but it could exacerbate stress and tension.
Yellow
Yellow is believed to inspire creativity, which makes it ideal for creative professions such as graphic design.
Fully saturated yellow can be very psychologically stimulating and could be a catalyst for negative emotional energy including anxiety, anger and frustration.
Yellow is also highly reflective. Despite these issues, it can still be a useful addition to your colour scheme.
Green
Green is thought to be a calming colour that promotes a sense of serenity and tranquillity. As a result, people are considered to be more relaxed in green rooms and this effect can be exploited to promote social communication and networking.
There is a current trend towards natural, earthy colours such as green and brown.
Trends in office design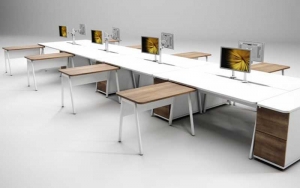 Colour trends change over time. White is popular at the moment because it has a modern appeal and can make rooms appear more spacious.
Neutral colours such as beige and grey continue to be popular despite negative colour connotations. Many people find these colours dull so they should be used sparingly and offset with brighter colours.
Don't overlook the use of bright accent tones on seating and partition screens to add a splash of colour to previously uninspired office spaces. And don't forget to exploit the uplifting effect of natural light and other strategies that are thought to improve wellness at work, such as bringing plants into the office to complement your colour choices.
Source:
www.colour-affects.co.uk