Refurb or relocate?
Three steps to help you decide what your work-space needs. Should you refit your existing work-space or move to a new one? Unless your organisation has no choice but to move to new premises, you may be stuck in this dilemma.
There are so many reasons why businesses move office or undergo a fit-out, but what's driving the change in your business?
Time to move
If you're building new premises from scratch or buying new premises, a relocation is imminent.
Stay put and refit
Or perhaps your lease is up for renewal. As a growing business you've outgrown your existing space, making it not be fit for purpose. In all these cases, you might be able to use the existing space more efficiently with new interior design and space planning from an experienced fit-out partner.
Shrinking office space
According to research, workstation occupancy rates average less than 50%. Increased demands from a modern team, combined with new technology have created a remote workforce, flexible working policies and the gig economy.
As a result, forward thinking businesses are making more efficient use of their space. Sometimes by reducing the ratio of desks to employee. Maybe evaluating use of areas like conference rooms and breakout spaces. So, before asking the question: 'should we stay or go,' see if you can make better use of your space.
Here are three steps to help you decide >>>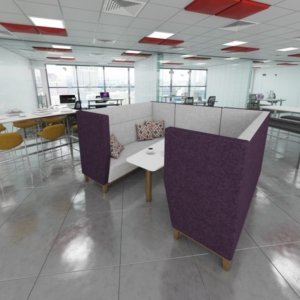 Step one: workplace consultancy
A space usage audit can be done with online surveys, on-site traffic monitoring or high-end software. As a workplace consultant we can assist with this. Combine this hard data with feedback from users to discover how they use it. Involve everyone who uses the space in this. That way, whatever changes you make will get stakeholders on-side from the outset.
Quick checklist:
Space usage audit with a workplace consultant
Staff feedback on how they use the space
Collate & review the results.
This first step should give you a decent start to answering the 'stay or go' question.
Step two: business-critical strategy
You may be at a turning point in your business trajectory, entering a growth phase or undergoing a brand redesign. So, does a new space meet all these challenges? Most importantly, ask your decision-makers and budget-holders three questions:
Why are we doing this?
What do we want from the new work-space?
How will that help us solve our problems?
The answers to these questions should help you decide who to start calling first, commercial estate agents or office design companies. You will need to call office design companies at some point, regardless, because every relocation needs a refurb.
Step three: meet the designers
If you're still undecided, meet with interiors and fit-out specialists at the top of their game. The best ones will not just be super-creative designers, but holistic, full-turnkey solution providers that mitigate some of the common pitfalls of an office move or fit-out. Some time with them will help. But be warned, go through steps one and two first. Otherwise, you may get blinded by pretty things and cool ideas.