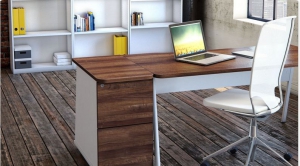 We are a family run, SME focused business based in Exeter, Devon with most of our work coming from recommendations and referrals. We have a wide portfolio of suppliers from the UK and from further afield. Here, with our manufacturing partner Lee and Plumpton we present our offering of a variety of desks in many different shapes, sizes and colour finishes.
We strive to offer you the broadest possible choice, from our classic contract office furniture range which is available in as little as 5 days for customers in Devon, through to the contemporary, modern and elegant designs of our 'build to order' office furniture collections.
Here is a brief summary of our desking and office furniture range.
CRESCENT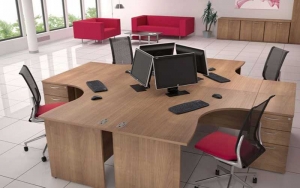 Also known as radial desking, the traditional crescent shape incorporates a return and is available in left or right-handed orientations. The major benefit of crescent desking is that it provides a lot of space and can easily be configured into clusters or positioned in room corners.
A desk high pedestal can be employed to create more working space.
WAVE
Wave desking is also available in left and right-handed orientations and bridges the gap between rectangular and crescent desks. The wave element provides additional working space without consuming as much actual floor space as a crescent desk.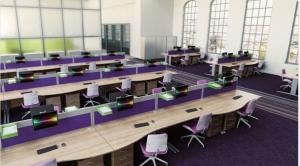 DOUBLE-WAVE
Available on selected product lines, such as Atmosphere and Ascend, double wave desks provide the added benefit of additional space on both the left and right hand sides.
A-FRAME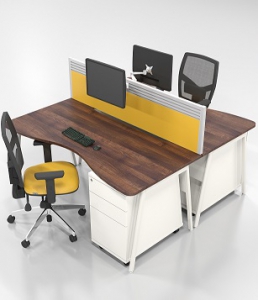 Our A-frame desk range, named Ascend, is an elegant and contemporary desk that is ideal for modern workspaces. The pedestals for this desk are angled at the rear to complement the desk frame and an optional return desk is available.
BENCH SYSTEMS
Bench systems have been growing in popularity for a number of years.
Our AuraBench range is now firmly established as one of our most popular product lines, reflecting a broader market trend that is being driven by changes in working practices, corporate culture and collaborative technology.
Bench systems bring people together and that is why it is ideal for collaborative workspaces. The bench format breaks down visual and spatial barriers and encourages spontaneous communication between people and groups.
AuraBENCH has integrated cable management as standard.
EXECUTIVE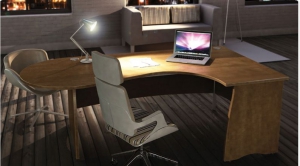 Our Atmosphere series is a popular choice for executive applications and the range includes a crescent conference option with an integrated meeting point. There are a number of leg detail and modesty panel options to choose from too.
RECEPTION
Our standard reception desk with integrated pigeonholes and full depth flushed modesty panel is a popular choice but our customers also use desks from the Atmosphere, AuraBench and Domino Beam collections as reception desks.
Many of the reception desks we supply are actually bespoke items that are manufactured to order by our tailored solutions department.
VARIABLE HEIGHT SOLUTIONS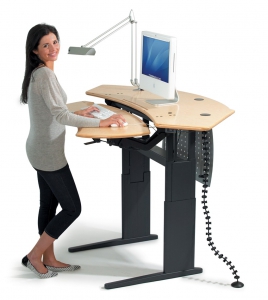 Height adjustable and sit stand desks are growing in popularity due to increased awareness of the health implications associated with prolonged periods of inactivity.
The purported health benefits include lower long term mortality rates, improved circulation and a reduced incidence of the problems typically associated with poor posture, such as back ache and neck pain.
Variable height desking could also help to mitigate some of the serious health risks that are associated with a sedentary lifestyle.
Our Sit-Stand desk has an electric motor that adjusts the position of the worktop from seated to standing while our original height adjustable desk has a manual crank system. Both desks are available in wave or rectangular formats.
RECTANGULAR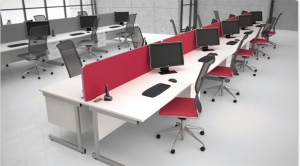 Standard rectangular desks are space efficient and their geometric shape means they are very easy to space plan. You can try combining straight desks with other shapes to create more visual interest or as a creative solution to space limitations.
DELTA
Delta desking is often overlooked in favour of more traditional options. The format does, however, offer some distinct benefits in relation to many other desks.

The 120° workstations in our Atmosphere collection can be configured to accommodate large groups of people and they work well when combined with other desk shapes. One of the lesser known benefits of delta desking is that the central positioning of the display on the work surface blocks sound as it travels towards the opposing desk.
BESPOKE SOLUTIONS
We aim to provide the broadest possible choice but sometimes a tailored solution is required. One of our greatest strengths is our ability to manufacture bespoke furniture to your specifications and we can also make alterations to our exisiting product range.
To find out more about our ranges of office furniture and office fitout or refurbishment & renovation services for Devon, call our customer services team based in Exeter on 01392 834980 or email contact@mdinteriorsdevon.com.